Sweet cherries are one of my favourite fruits. The are great from the branch, in jam and also tasty then they're hot and covered with crumble :). I've made a crumble with sweet cherries and nectarines just to have something sweet to afternoon coffee. Instead of big baking tray I've used small ramekins cause I wanted everyone to have his own mini-crumble :).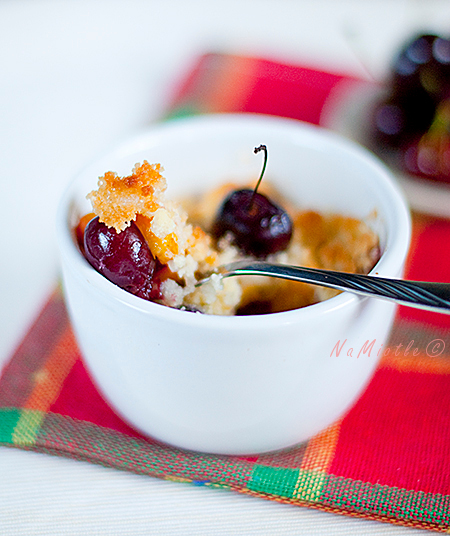 CRUMBLE WITH SWEET CHERRIES AND NECTARINES
125 g butter (soft)
1/2 cup sugar
1/2 cup flour
500 g sweet cherries
4 nectarines
8 tbsp brown sugar
Clean and stone the sweet cherries. Stone the nectarines and cut into quite big cubes.
Mix butter with sugar. Add flours and mix until it comes into little crumbles.
Pour one spoon of brown sugar into each ramekin. Lay fruits on sugar to 3/4 of ramekin. Then lay the crumble on it.
Bake it in the oven, 200 degrees until the crumble comes gold.
The recipe is enough for eight 200ml ramekins