"Tłusty czwartek" (thursday before Ash Wednesday – it's something like Mardi Gras) is coming so I have some doughnuts for you. They are made from recipe which I get from my Grandmother Emily and they are really great! They grow big (light ring is the evidence for it), they are fluffy and delicate. And the most important: they've got the same quality and taste on the next day (home made doughnuts always lose it).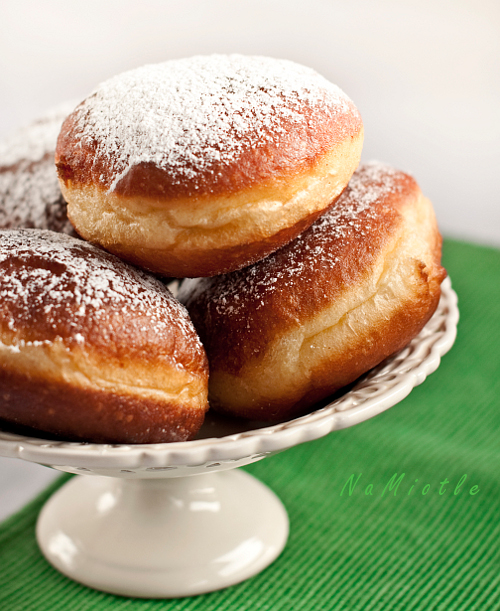 DOUGHNUTS
4 cup flour
8 egg yolks
1/2 cup sugar
100 g yeast
100 g melted butter
1 cup milk
1 tbsp vodka
marmelade or jam
600-700 g lard or oil to deep-frying
Take a cup of flour, yeast, one spoon of sugar and a half cup of milk, mix in a bowl and leave in warm place. While the leaven is growing – mix yolks with sugar (on the steam). The heat have to be very low! It should be fluffy, light and sugar have to be completely dissolved. Add the rest of the flour, the leaven, melted butter and the rest of the milk (warm) to the yolk dough. I used also grains from 1/2 of vanilla cane. Make the dough until it's smooth, elastic and won't stick to your hands. At the end of it add alcohol.
Then cover it and leave in warm place until it grows. When it doubles its volume make the doughnuts. Take some dough with your hand, flatten gently, make a little hole and lay the marmalade with teaspoon. Stick carefully and lay it on the cloth powdered with flour. Sticking have to be on this part which is laying on the cloth. Cover them with cloth and leave to grow. They grow big (they'll be almost twice bigger than before). Fry it for about two minutes on each side and be careful to not burn them! While frying turn them only once! If they are well grown the light ring will appear. Powder them with icing sugar while hot or ice them when get colder.