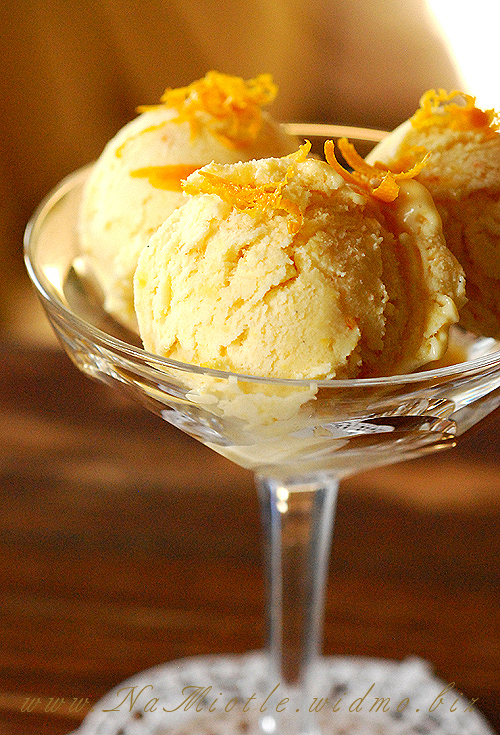 ORANGE ICE-CREAM
500 ml milk
125 g sugar
1 vanilla bean
6 egg yolks
100 ml cream
1/4 cup orange marmalade
1 tbs orange zest
In the saucepan, on the medium heat, heat up milk, 2/3 of sugar and cutted lenghtwise vanilla cane. Bring milk to the boil.
In bowl whisk yolks with the rest of sugar until it become creamy. Pour boiling milk into yolks using whisker all the time and pour it again into the saucepan. Heat it up on the low heat mixing it all the time with wooddem spatula until it starts to paste the spatula. Pour it into the bowl and leave it to let it get cold. Mix it from time to time to avoid creating skin on it. Strain cold cream by using a strainer.
Marmalade and orange zest add to the cold cream. Put it into the plastic box and refrigerate it. Put the refrigerated cream into the ice-cream making machine and follow the instructions. Slowly pour the cream into the almost done ice-cream when the ice-cream maker is on and mix it for about 10 minutes.
Serve with a little bit of orange zest od it.